What Do You Do After the Survey?
Once your survey is complete, CPS will work closely with you to ensure you understand how to interpret the unique data in your reports. Many survey vendors will hand off reports that provide little to no interpretation and very few recommendations on what to do next.
CPS staff know the value of your data and we know the survey is much more than just giving you numbers. Our reports provide guidance on next steps, links to practical and (usually free) resources and tools, and benchmarks that will compare you to other 'like' organizations.
Additionally, our patient safety experts will personally guide you through report interpretation and action planning. You'll be matched with a CPS patient safety expert that has actual experience with your healthcare organization's disciplines. You'll be given plenty of opportunities to ask questions and request additional support.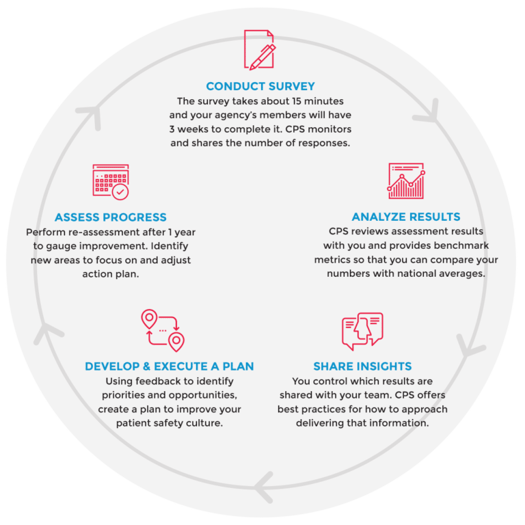 After you receive your feedback reports, we will spend some time working with you to:
Identify direction – we will work together to define direction once the survey is completed. We will support you through the next stage of your patient safety culture maturity.
Review results – we will work through your data, answer questions, identify opportunities for improvement, and find key strengths to celebrate. We'll also start to preliminarily explore causal factors. We'll spend some time talking about your current patient safety practices.
Discuss next steps – do you have a standard methodology for improvement? How can we integrate your results into your current work plan?
Develop action plans

– h

ow do you define your strategies? How do you set organizational and employee goals? How will you proceed with measurement monitoring? Who will be accountable? Will you be aligning regulatory requirements and action plans across the organization? We'll take all of these questions one at a time to ensure your action plan is efficient and achievable. We want you to be successful!